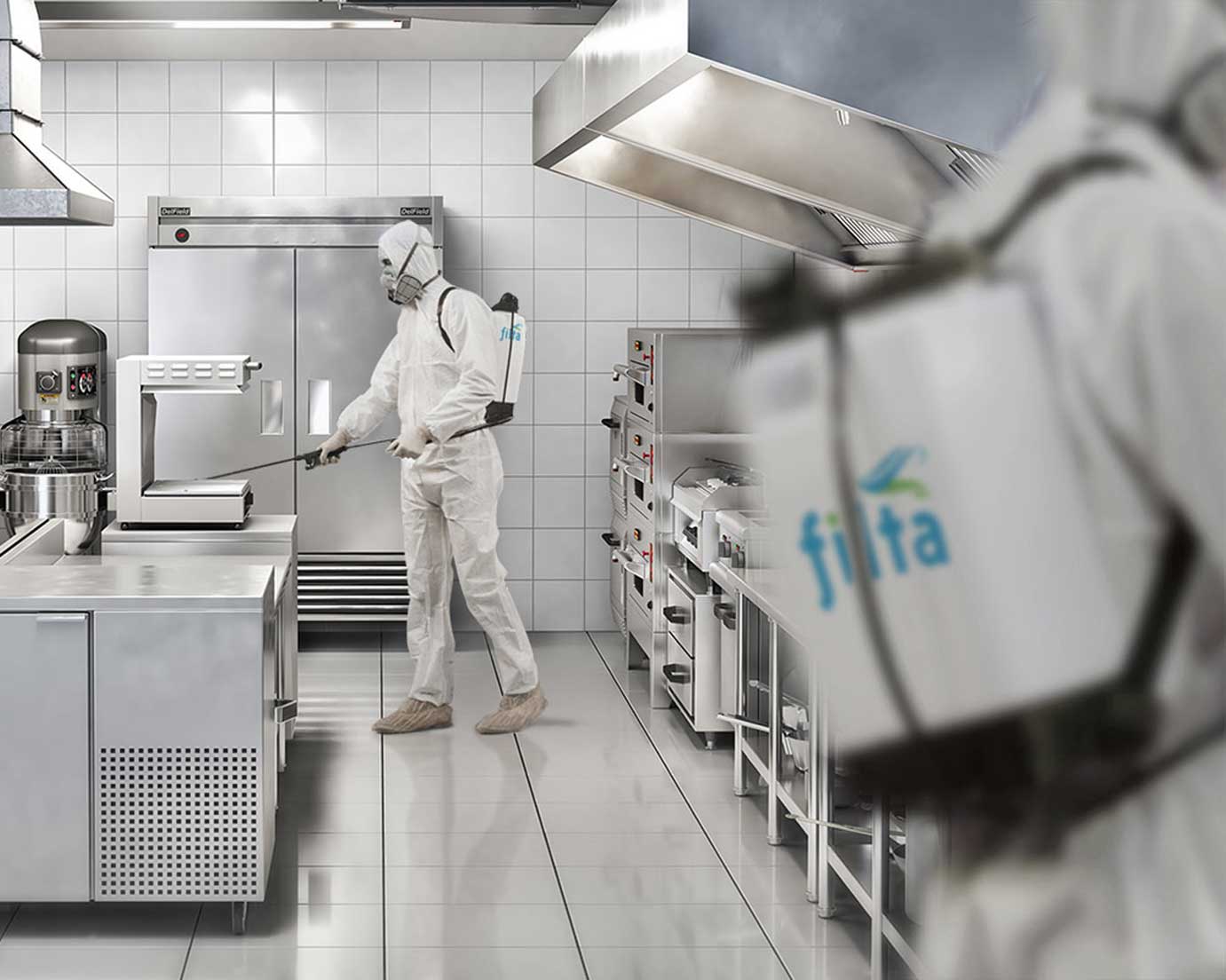 Filta Franchise Adapting to Trends
We wanted to help our clients keep their doors open and maintain a happy, healthy working environment. That is why we have now introduced FiltaShield -- a robust package of sanitizing and disinfecting services to help detect and eliminate viruses, but most importantly, keep people safe.
Filta Environmental
Sanitizing Franchise
Traditionally, Filta has been known for our oil filtration and fryer management services, but when 2020 arrived with the onset of the coronavirus, we found other vital services to add to our existing suite of services.
By opening a sanitizing franchise, you will be offering an essential service to the businesses in your area. You will also be meeting the demand that has skyrocketed since the start of COVID-19.
The Demand for a Disinfecting Franchise
When the first wave of COVID-19 hit our communities, business owners weren't sure what to expect. What we saw was a ripple effect that crippled consumer-facing companies at an unforeseen rate.
According to Yelp, data shows that 60% of business closures due to the coronavirus pandemic are permanent.
Permanent closures have reached 97,966 as of September 2020
Businesses that rely on the heavy flow of consumer traffic in a closed facility need to bolster their defenses, which has brought on new importance for commercial cleaning businesses.
Commercial disinfecting franchises and sanitizing businesses are expected to receive a 4% gain and recovery forecast for 2021, and 5.4% annual gains thereafter to 2025
73% of consumers feel that their workplace should be cleaned daily, and more than half (56%) want their workplace disinfected daily.
Our Wide Array of Sanitization Services
By adding sanitizing and disinfecting services to our existing catalog of facility maintenance offerings, our franchisees are now able to keep their businesses running and support their clients in a completely new way. Our three-pronged sanitization program is designed to keep our clients' facilities virus-free today and going forward.
Sanitize: A uniformed Filta technician will enter a client's facility and complete a full detailed threat analysis to assess the level of cleaning and sanitization that needs to occur. They will identify which areas of the facility need to be treated by spraying a light mist on "high-touch areas". Your Filta team can come in to treat an area daily, which is ideal for investors who are looking for a service model that provides for recurring revenue.
Protect: By partnering with an advanced biocide manufacturer, Filta franchisees can now offer a protection program that can keep surfaces virus-free for up to 30 days. There is a lot of science that goes into it, but essentially, the biocide fluids bond to surfaces and set up a barrier that can impale and destroy pathogens for up to 30 days.
Monitor: This level of virus detection is what has given Filta the upper edge over any other disinfection franchise. Your team can install thermographic cameras that are able to detect elevated skin-surface temperatures that provide results in under a minute. This rapid-fire detection allows our clients to recommence everyday activities and public gatherings more safely.
In addition to arming our franchisees with a complete array of sanitization services, our team has been working closely with our owners to help them overcome whatever obstacles stand in their way. The road that led to the introduction of FiltaShield has tested our Filta Family, but now we are stronger than ever. When you partner with us, you can count on our comprehensive training and unwavering support to help you build a robust facility maintenance and sanitizing franchise.