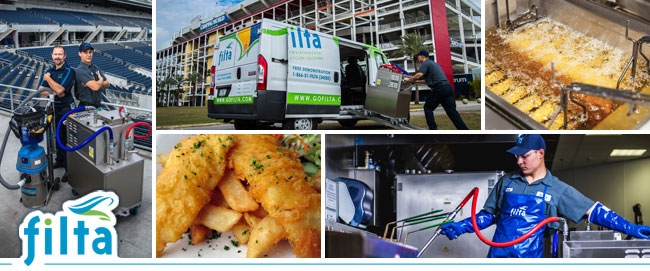 Following the recent signing of 15 new franchise agreements, Filta Environmental Kitchen Solutions, the world's restaurant kitchen and hospitality leader in active fryer management and environmental sustainability, is on the move once again and looking to expand its presence across Southern California.
Headquartered in Orlando, Florida with franchisees across 45 states, Filta makes commercial kitchens safer, more efficient, and environmentally sustainable by micro-filtering existing cooking oil, providing bin-free waste oil collection, deep cleaning fryers, and recycling waste oil. Furthermore, the brand has expanded its kitchen services into humidity control for cold storage and grease-free drain foams making it the recognized environmental leader across the restaurant and hospitality industry.
Adam Blake, vice president of franchise development for Filta, said the brand is focused on Los Angeles now because of the city's growing economy, it's multitude of restaurants and institutional properties, and the $1 trillion in economic output that Los Angeles County and Orange County produce combined. Filta already boasts 10 franchisees across California and Blake says they could potentially add up to another 3 franchises across Los Angeles alone.
"We've seen tremendous growth out of our brand over the last few years from both new and existing operators, who have all helped us become the recognized leader in active fryer management and environmental kitchen sustainability across the entire food and hospitality landscape," said Blake. "Our franchise model is easily accessible and scalable for both first time entrepreneurs and existing franchise owners."
With a proven business model and a more than 20-year history, the Filta brand offers entrepreneurs the opportunity to be their own boss in a lucrative and growing industry. Strong customer loyalty and new client acquisition continues to drive sales and the brand is now focused on filling in specific markets across the country.
Blake said that while Filta is targeting Los Angeles for development, it is also looking for new franchise owners in Northern California, Oregon and Washington, among other areas across the West Coast.
"What makes our brand appealing for entrepreneurs is that it is a home-based business with large exclusive territories, which allows franchisees to scale our simple business model quickly into a multiple van and multiple revenue stream operation," said Blake. "Furthermore, weekly repeat services, minimal overhead and the ability to work your own hours, backed by one of the most robust support systems across the entire franchise industry, allows franchisees to maximize earning potential. We're excited to continue growing across Southern California and build upon the momentum we've already established. We're looking for franchise owners in Los Angeles that are ready to grow and share our commitment to providing the best in customer service and support, while also making a measurable and quantifiable impact on the environment."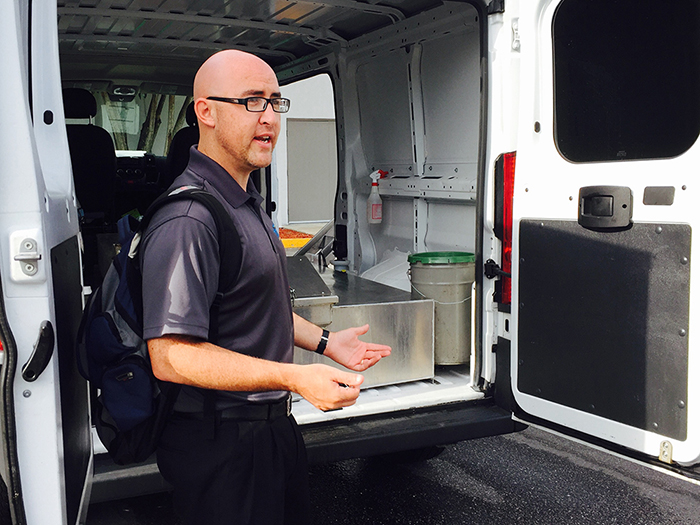 Adam Blake, Vice President of Franchise Development at Filta
Through its network of thousands of commercial and restaurant kitchens that it services every week, Filta Environmental Kitchen Solutions has recycled nearly 1 billion pounds of used cooking oil into bio-diesel, significantly reducing the impact of fryer oil on the environment. Customers range from single and chain restaurants to commercial kitchens inside casinos, hospitals, hotels, groceries, universities, business facilities, stadiums (NFL, NCAA, MLB, NHL), and more.
Prospective franchisees can expect their initial investment to range from approximately $103,100 – $116,700 including a $39,950 territory fee and a $49,950 opening package. Franchisees will also benefit from comprehensive local marketing support, ongoing training, research and development of new products, operational support including inside sales teams that help secure new customer opportunities, technician recruitment, and continuous business counseling.
"There is not another service franchise brand out there that can come close to competing with our business model, our scalability, our support systems and our environmental commitment to the communities we serve," said Blake. "By remaining focused on what makes us uniquely different, we are well positioned for growth with the right franchise owner across Los Angeles and throughout the West Coast."
For more information about franchising with Filta, please click here.