On April 9th of this year, Steve and Karen Bral officially launched their Filta franchise, with an office in Madison Heights, Michigan serving Macomb and part of Oakland counties.
Prior to becoming a franchise owner, Steve had a 35 year corporate career spending 23 years in Automotive and 12 years in Electronics, finishing up as a Director of Quality.  But he always wanted to own a business.
"We wanted a business that had a recurring income revenue stream with relatively inexpensive start-up costs.  We were also looking for a business that didn't require an excessive amount of employee training, and had little competition with the potential for growth" said Steve.
Following the departure from his last position, Steve began working with a franchise coach from The Entrepreneur's Source. Together they identified 20 companies they saw as a good fit, which they then whittled down to 10 companies before attending 5 discovery days.
"After the discovery days we used a list of 18 criteria that we rated from 1-4 and then added up the total scores, Filta scored the highest overall! 

Steve and Karen purchased a territory with a small existing customer base (under a vans worth of work) that they started to service in April.  In July, they purchased another territory that includes Wayne and Washtenaw counties and have grown the business to a multi vehicle operation, currently running 2 vans and a Box Truck.
"Our goals are changing rapidly, the original plan was to add 4-6 customers each month. The team is doing a great job and we are exceeding the plan, we are adding a vehicle every 3 months and we hope to have our 4th van on the road in the next couple months".
"I'm going to have to start looking for additional space because at the moment we're out growing our lease"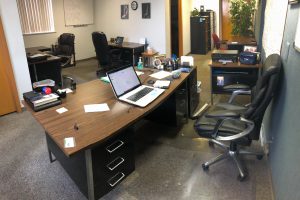 "We signed a two year lease agreement and love our head office location, but based on growth, we will have to add additional space sooner than expected.  If the growth stays constant, we have a realistic shot at 5-6 vans within our first year of operation.  Prospects for 12-24 months are very encouraging", said Steve.
Steve recognizes that this business is still very much in the growth and learning stage and that there's lots of things that the team still doesn't know. He now has both his sons working for the company as Operations Managers, has added two great Technicians and is in process of adding additional staff.  Steve plans to step away a bit more from operations to focus on growth. "In purchasing the neighboring territory from a previous franchise owner, there have been a lot of challenges but we feel we are heading in the right direction.  We have received awesome support from other Franchise Owners who have really made a difference in overcoming those challenges. Our growth has primarily been from customer referrals which gives us a sense that we are doing a pretty good job.  These referrals have allowed us to add another 30% of business in just 6 months. In the future we envision that both of my sons operationally control different parts of our territories and the crews underneath them. My wife is my partner in the business and does all the book keeping and most HR functions, so the business really is within the family.
Steve ends by adding that "all the staff at corporate have been very good to work with and very responsive. We appreciate them!"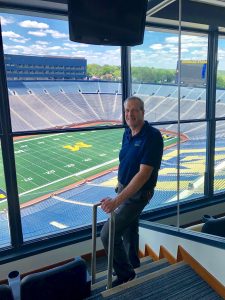 Steve Bral, owner of the Madison Heights, Michigan Filta franchise