A fundamental trait that you will notice with everybody in the Filta network is that we all care about the concept of family. It's a value that we look for in all of our candidates, so, today, we want to spotlight one territory that has redefined the meaning of a "family-friendly franchise."
Based in Carlisle, Pennsylvania, David and Zach Hoover have established an incredible father-son bond that they've brought to their Filta franchise. Learn about how the two have balanced their relationship as members of the Filta team and how COVID-19 changed everything about their business.
The Hoover's Filta
Family Franchise 
David and his wife Laurie started their local franchise back in 2016. It was at the point when their son Zach finished some college classes in business administration that David decided that it was time to get his son involved in the business as well.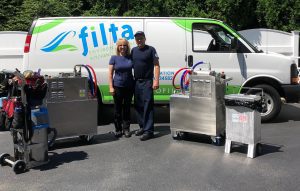 At first, there was a learning curve of working together while maintaining the relationship they had as a family. It took a little bit of time for David to take a step back, and that changed when he realized the value that Zach could bring to the table as a blooming entrepreneur.
Zach explained that, "It also came as a learning curve to me. When I was in high school, I had my own company manufacturing livestock recreational feed. So I had my own ways of doing business; it was an uneducated way to run a business, but I was young. Coming into this and taking college classes, I've learned a lot."
Where does that motivation come from? As a kid, Zach saw his father repeat the same day over and over again in the corporate world, and he soon realized that he wanted to be in business for himself one day. 
When you put what Zach has done into perspective at this stage in his professional career, it's pretty incredible. In his early 20's, Zach has secured a position as Operations Manager and is building skills he will carry throughout the rest of his life. He has learned a lot about networking, nurturing those professional relationships, and exploring ways to maximize efficiencies within a business. 
COVID-19 and Changing Focus
Zach and David both play an essential role in building and maintaining good relationships within their existing clientele. Zach is actively involved in sales outreach and David plays a crucial role in managing the numbers behind the scenes. Nevertheless, no matter your age or level of experience, like many business owners,  Zach and David had to both rapidly adjust as COVID-19 swept through the nation. Filta was there to help and the Hoovers were able to find their footing.
"In the beginning when it all came about," David explained, "Filta acted really quick." He went on to say, "They were looking for other ways to generate revenue for franchise owners, and one of those was FiltaShield; we jumped right into that. As soon as we had a product, we were reaching out to the community to try and get our name out there."
While a lot of businesses found difficulties in adapting, FiltaShield brought new business to the Hoovers, and one of the first jobs they were called to was at a local homeless shelter. As time went on, the Hoovers were serving that facility weekly, and it was a story that was soon picked up by local television stations in a "Hometown Hero" segment.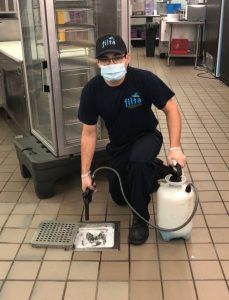 "So for the months starting in July right through last month, we're back up to 100% of where we were at last year sales-wise. It's because of the additional revenue generators and FiltaShield," said David that, "we picked up more customers from July onwards in just four months than what we did in the previous two years."
With all the hurdles they had to overcome, David noted that COVID-19 really played a big part in Zach's development and how it evolved the Hoover's business relationship.
He further said, "To me, that was the foundation to get Zach really involved in all of this. He was there with me; he was with me learning about sanitization and FiltaShield."
David and Zach have built a business for their family, but they've also established a community franchise that has helped people feel safer.
The two of them are doing their part to spread awareness about the importance of sanitization and the benefits of Filta's extensive catalog of disinfection services. Zach and David are both confident that the relationships they've created will stand the test of this global pandemic, and their family franchise can resume where it left off. 
If you'd like to learn more about our family-friendly franchise,  feel free to get in touch with a member of our team today.