David and Laurie Hoover bought a Filta franchise when their son, Zach, was in high school.
At the core of the business is their active fryer management program. They deliver, filter and recycle cooking oil for biodiesel fuel from commercial kitchens in area restaurants and Hershey Park.
"Then, COVID hit. Restaurants were shut down. Office buildings were shut down. So, we dropped off close to 95% in revenue," said Zach, a junior at Central Penn College who serves as the operations manager for the family's company.
Knowing that it would be some time until the fryer business would be back to full speed, the Hoovers added a new sanitizing service to their portfolio, FiltaShield. Zach said the service has helped to recoup some of their losses, but he has an eye on a greater goal.
"We might reside here in Carlisle, but if we can get that greater community back to a safe and healthy spot where everybody can get back to normal, that's our goal," he said.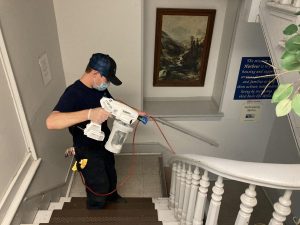 Getting ready to offer the new service took some work. The Filta corporation offered a lot of help, but left it up to the Hoovers to decide what to use, Zach said. It took a long time to nail down the most effective solutions and the right machinery to use.
"It took a lot of research," he said. "At the end of the day, you're messing around with potentially harmful chemicals and you need to know what chemical does what."
Zach said he can't specifically say that the sanitizing solutions the company uses will protect from COVID-19 due to Environmental Protection Agency regulations, but he will say it protects against harmful bacteria and viruses.
Not long after launching the service, the Hoovers approached Safe Harbour about providing sanitization services for free at its West High Street facility. Executive Director Scott Shewell quickly agreed.
"It's just one more tool in our arsenal to keep the virus at bay," he said.
On Tuesdays, David and Zach move through the building with a handheld sprayer and a backpack-style electrostatic sprayer that looks something like a scaled-down proton pack from "Ghostbusters," spraying common areas on each floor with its sanitizing solution. The solution is allowed to air dry to ensure that it's left in place for the required one minute that it takes to kill the bacteria and viruses.
Shewell said residents at Safe Harbour were a little curious about the process at first, but they have grown to appreciate what the Hoovers are doing.
"They understand clearly that what they're doing is a service that is protecting them," Shewell said.
Initially, the Hoovers came every week for the treatment, but now they've switched to a solution that provides protection for 30 days, so they come one week to do two floors then come the following week to do the remaining two floors before taking two weeks off.
"These gentlemen have just been wonderful. We deeply appreciate what they've been doing," Shewell said.
Like so many others, Zach is ready for the pandemic to be over.
"At the end of the day, everyone's in this together," he said. "The faster we can get back to normal, the faster we can get back to our core service."
But, he believes the pandemic has changed the way people think about sanitizing services that provide protection against an array of viruses in addition to COVID-19. Businesses will be more productive if employees can be kept on site and, by extension, that will make the economy stronger, Zach said.
"I don't know what it wasn't something before, but it is now and I think it's here to stay," he said. "People need that sense of peace of mind."
If you'd like to learn more about our family-friendly franchise, feel free to get in touch with a member of our team today.