Source: San Diego Business Journal
Filta Environmental Kitchen Solutions San Diego, headquartered in Kearny Mesa and with 19 employees, has expanded its operation to Orange County.
Founded in 2011, Filta offers a cooking oil filtration service among other sustainable programs focused on reducing the carbon footprint of the hospitality industry. To date, it has recycled nearly one billion pounds of oil, according to the company. Some of its over 150 clients include Petco Park, Trust Hospitality Group, CH Projects and Phil's BBQ.
Now, co-owners Ethan Cohen and Jason Sydlowski are bringing their eco-friendly efforts to the O.C. Because Orange County is a similar market to San Diego in terms of population and hospitality offerings, the two feel confident in its growth potential; the strategic move is expected to grow the company's revenue from $3.5 million in 2020 to $5 million by the end of 2021, they said.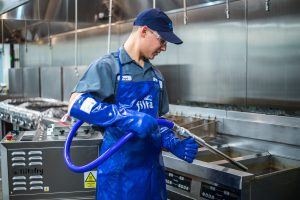 Reduce Toxic Waste
"In the past, restaurant operators would leave nasty waste oil bins in the back of their restaurants or outside," said Cohen, who has a background in the food delivery industry. "Every time they want to change their oil, the staff, which is sometimes someone that is young and/or untrained, has to take the hot oil in pots and transfer it from the fires to the waste bins. During this process, they can potentially run into liability accidents from spills or burns. We take the liability of having waste bins outside and having the oil go directly into our sewer drains and into our oceans. We bring a better choice to restaurateurs to help them reduce their toxic waste."
The way it works is through a process called micro filtration unit (MFU), said Cohen. The Filta staff enters its client's kitchen after hours, takes the cooking oil and filters it down, doubling or sometimes tripling the life of the oil that would otherwise be discarded after one use. While the filtration machine, which is inside each of Filta's 12 vans, does the purifying, Filta technicians deep clean the fryers. Once filtered, the oil is then reinserted into the clean fryers to be reused the next day.
After two or three filtering sessions, Filta completely changes the oil out via an extraction machine that also lives in the vans and replaces it with a fresh batch, said Cohen. When it does so, it takes the used oil and sells it to another San Diego-based company called New Leaf, which then converts it into biodiesel fuel.
This part of the operation accounts for about 25% of total business, he said, adding that in San Diego alone, 10 million pounds of carbon dioxide is prevented from going into the atmosphere annually as a result of this endeavor.
Reduce Waste Expenses
And, Filta continues to innovate on the environmental front.
In 2018, the company introduced a new arm to the business model, said Cohen, which delivers oil to clients in reusable containers. When the company is scheduled to change the fryer oil, it brings the batch to said client using said containers, he said. This allows restaurant owners to save storage space by not having to store boxes and boxes of oil anymore as well as reduce on their waste and recycling expenses since there are no cardboard boxes or plastic jugs to get rid of as a result. Through this program, Filta is preventing about 1,500 boxes from going to the landfill every two weeks, said Cohen, which equals to about three thousand pounds of waste every two weeks and 80,000 pounds a year.
Additionally, just last year, as a direct result of COVID-19, Filta added a sanitizing service to its list of green solutions, said Cohen. This allows technicians to go into any client's space after hours and disinfect the premise with a 30-day protectant that helps prevent the spread of SARS-CoV-2, he said.
Environmental Awareness
Now, Cohen and Sydlowski are offering the same green efficacy in Orange County in hopes of growing the company. Because of COVID-19, Sydlowski said the company lost almost all of its restaurant, universities, music venues, amusement parks and hotel clients – it survived mostly through its work with hospitals and nursing homes, he said. But, as restaurants have begun to reopen, Filta has increased its business by 30%, he said, attributing that to the pandemic heightening environmental awareness.
In the near future, Cohen and Sydlowski hope to take the ecological business to Los Angeles.
If you'd like to learn more about our family-friendly franchise, feel free to get in touch with a member of our team today.