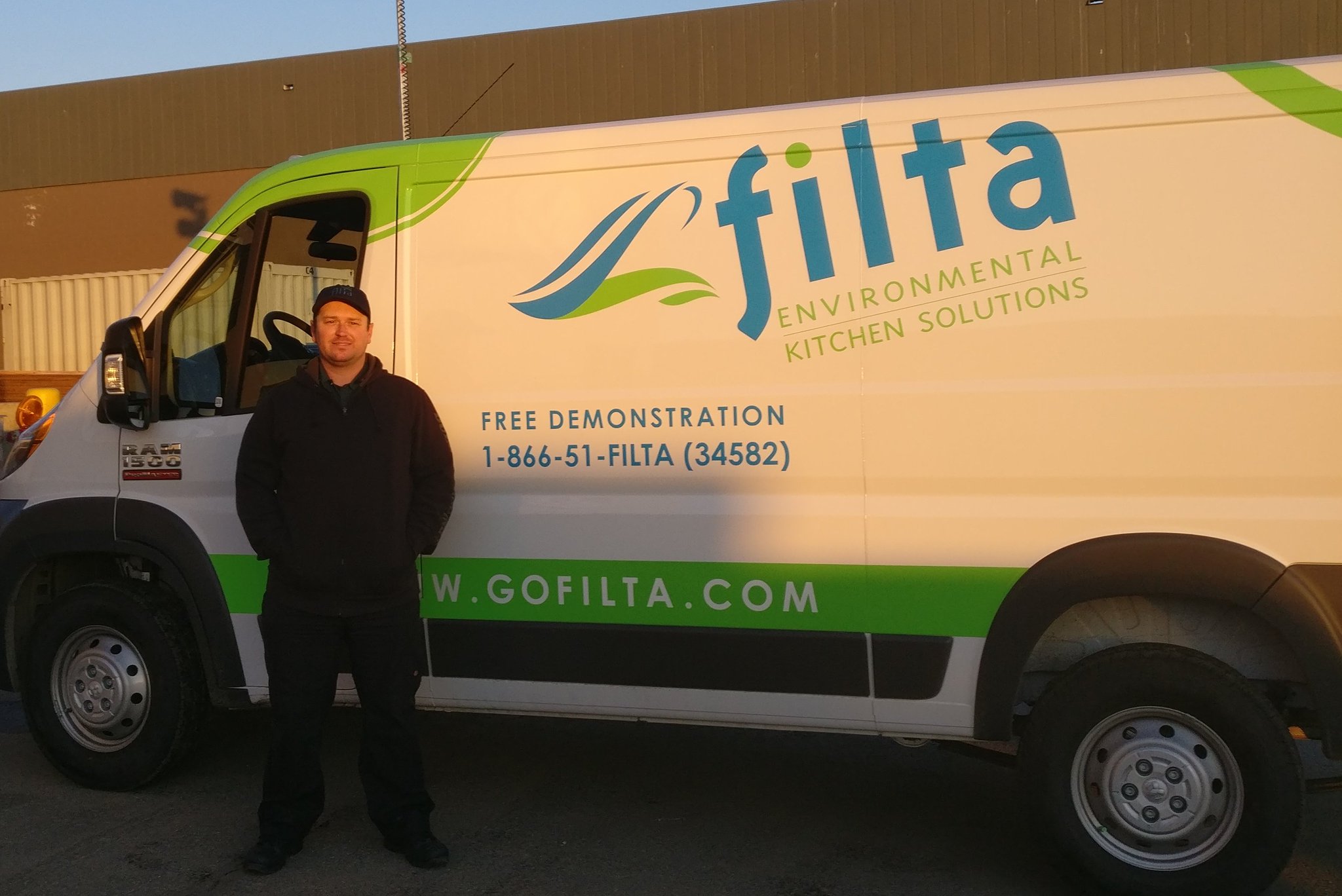 While he's only been a Filta Environmental Kitchen Solutions franchisee for less than a year, Kevin DeGroote hit the ground running and has quickly grown his business – much to the appreciation of restaurant and commercial kitchens across Anchorage, Alaska
.
An Army veteran that served in Iraq and Afghanistan, DeGroote was transferred to Alaska during his military deployment and liked the area so much he stayed. He worked in Alaska's North Slope oil fields and, after that contract expired, found himself at a crossroads in his career. He felt moved to choose becoming a "lifer" with a big oil company or selecting an entirely different path.
Growing up in Mesa, Ariz., DeGroote was always attracted to the idea of small business ownership. He worked several jobs in fast food during his youth and the inspiration for franchising and service was ingrained in him early on.
"Small businesses are the lifeblood of the American economy, and nowhere is that more apparent than in Alaska," said DeGroote. "Here in the 49th state, small businesses generate the majority of employment growth and are critical to the overall success of our communities."
DeGroote began searching for franchise business models online that were service oriented. He knew he didn't want to own a restaurant and he knew he did not want to be stuck in an office all day. He came across Filta and was intrigued by the unique nature of the work.
"I went down to Orlando to Filta's headquarters for a Discovery Day presentation and by the time I was shown around, met the executive team and learned more about the business model, I knew I needed to pull the trigger on my decision fast," added DeGroote.
DeGroote liked Filta's unique business format and how franchisees become an integral part of their local communities. He also found Filta's guidance, support, training and inside sales teams to be the most robust of all the franchise business models he explored. Furthermore, Filta provides comprehensive marketing, public relations and advertising support to all its franchisees.
"Kevin is resolute about building his business and is deeply committed to providing the highest level of customer service for which Filta is known worldwide," said Tom Dunn, Filta Environmental Kitchen Solutions Chief Operating Officer. "He is quickly on his way to building something very special across Alaska."
DeGroote said the most satisfying thing about working as a Filta operator is seeing the difference his service makes in restaurant and commercial kitchens across Anchorage.
"Were making restaurant and commercial kitchens exponentially safer, more efficient and environmentally sustainable with our proprietary micro-filtering process, our bin-free waste oil collection, fryer deep cleaning services and our waste oil recycling," said DeGroote. "In less than a year, we've already been able to recycle thousands of pounds of used cooking oil into bio diesel, which has significantly reduced the impact of fryer oil on our Alaskan environment. In fact, for every gallon of bio-diesel we put into use, we prevent 16 pounds of carbon dioxide from entering the atmosphere."
DeGroote said he would absolutely recommend other potential franchisees look into Filta if they are interested in a career change.
"If you have the right attitude and work hard while taking advantage of all the support that Filta provides, then the sky's the limit," he said.