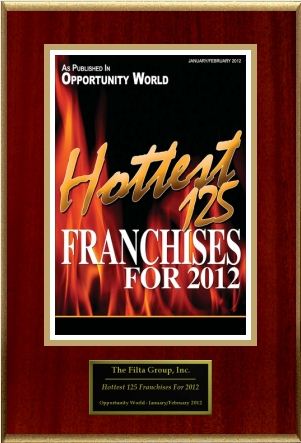 As the first quarter of 2012 comes to a close, Filta will build on its recent recognition by Opportunity World with its "Hottest 125 Franchisees for 2012" selection. The publication by United Communications marks yet another acknowledgement for Filta in the franchising industry.  Filta's COO Tom Dunn stated, "Our Team has been working diligently this year to create exceptional value for our Franchise Owners, and it is an honor to be recognized."
In accordance with the selection, Filta has also been honored and added to the "Registry of Business Excellence™" by the American Registry. As a part of this prestigious recognition, Filta has been presented with a commemorative plaque to represent the Filta Franchise's business achievement.
Filta has been focusing on localized marketing as a part of its 2012 campaign, and with this recognition, it is clear that their efforts are paying off. With the start of the second quarter fast approaching, Filta looks to continue to build on this success.